How To Use This Site
Login to your account: After login, if you do not see your dashboard, click on Sell Your Work to access your backend dashboard
Adding and Managing Products
Adding a product
Before adding your first product, let's get familiar with how product categories, tags, and attributes work.
Product Categories
Product categories and tags work to identify the specific area your work falls into. Tags are used to create keywords to enable the product or work be easily searched or accessed on the system. They can be created, edited, and selected at any time. This can be done when you first create a product or come back and edit it or the category/tag specifically.
Product Types
When adding a product, the first thing to decide is what type of product it is.
Virtual – one that doesn't require shipping. For example, a service.
Downloadable – much like a virtual product, but customers are given a downloadable file. For example, digital album, PDF magazine, or photo.
Adding a Simple product is similar to writing a post in WordPress.
Go to Products > Add New. You then have a familiar interface and should immediately feel at home.
Enter a product Title and Description.
Go to the Product Data panel, and select downloadable (digital) or virtual (service) if applicable.
Note: Virtual products don't require shipping — an order with virtual products won't calculate shipping costs.
Product images
You can add a main image and a gallery of images.
Setting catalog visibility and feature status
In the Publish panel, you can set catalog visibility for your product.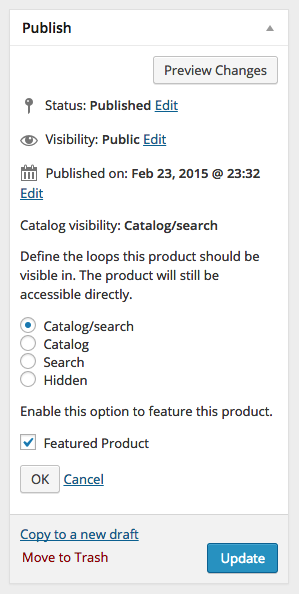 Catalog and search – Visible everywhere, shop pages, category pages and search results.
Catalog – Visible in shop pages and category pages, but not search results.
Search – Visible in search results, but not in the shop page or category pages.
Hidden – Only visible on the single product page – not on any other pages.
Adding a virtual product
When adding a Simple product, you can tick the Virtual checkbox box in the product type panel. This removes unnecessary fields, such as dimensions.
Adding a downloadable product
When adding a simple product, you can tick the Downloadable checkbox box in the product type panel. This adds two new fields:
File path — Path or url to your downloadable file.
Download limit – Limit on number of times the customer can download file. Left blank for unlimited downloads.
For maximum flexibility, downloadable products also incur a shipping cost (if, for example, you were offering both a packaged and a downloadable version of a product, this would be ideal). You can also check the Virtual box if the downloadable product is not shippable.
Duplicating a product
To save time, it's possible to use a product and duplicate it to create similar products with variations and other qualities.
Go to  Products and look through the list for a product you wish to replicate, then click Duplicate.
Deleting a product

To delete a product:
Go to:  Products.
Find the product you wish to delete.
Hover in the area under the Product name and click Trash.
Mark a product as Featured
To mark a product as featured, go to: Products > Products and select the Star in the featured column. Alternatively, select Quick Edit and then the Featured option.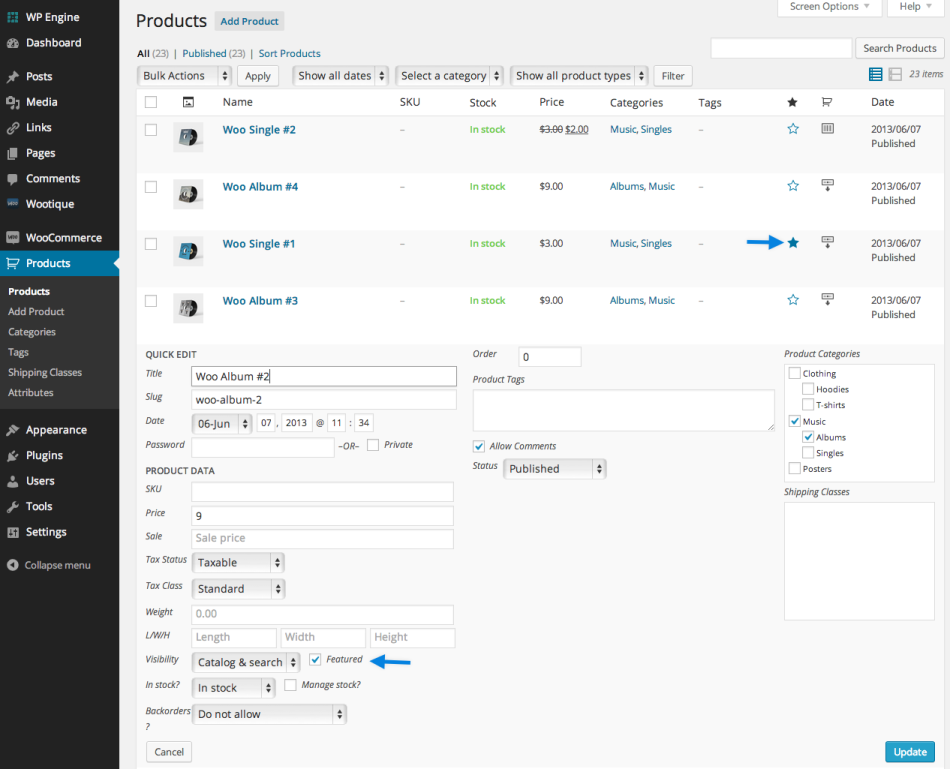 Product ID
A WooCommerce Product ID is sometimes needed when using shortcodes, widgets and links.
To find the ID, go to Products and hover over the product you need the ID for. The product ID number is displayed.
 BUYING OR DOWNLOADING A PRODUCT
Select your preferred product/work, click add to cart. Product is automatically added to your cart and shown in cart total icon above the navigation menu bar.
After adding your product to the cart, click on view cart to see your product.
3. Click Proceed To Checkout, Fill in your billing Details, Accept the terms and Conditions.
4. Then Click Make Payment.
You will be redirected to our Secure Payment processor.
5. After Payment, you will be automatically redirected to the product download page.